All artists gain the biggest motivation to draw in the creative October. The popular and exciting Halloween is in the end of this Month. To wish everyone a happy October, we invite all the artists to join Parblo Drawlloween Challenge and spread the world with art and creativity.   
Draw the best of your imagination and win the awesome prize from Parblo.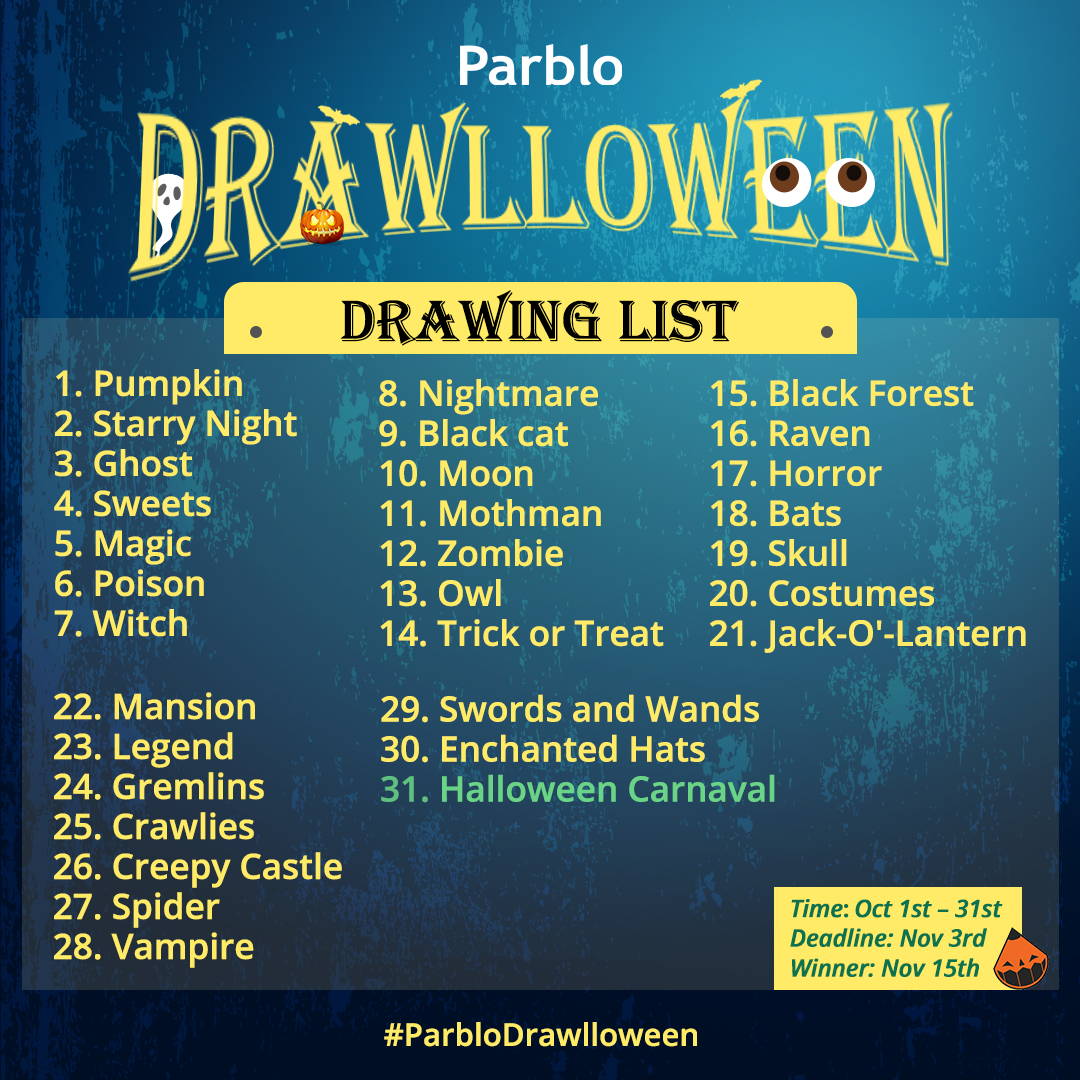 1. Draw the best of your imagination according to the drawing list.
We encourage you to submit 31 artworks based on the daily theme. You can also mix adjacent 3-4 themes in one painting, but don't forget to mention in your post which topics you have mixed in the post. You can even pick your favorite themes, but remember you should submit at least 5 entries.
The more entries you enter, the more chance to be the winner.
2. Weekly lucky winners.
We will select one lucky winner every week and he/she will get an amazing tablet Parblo A640.
3. Post your entries on social media with the theme and tag Parblo (Facebook, Twitter, Instagram)
4. Hashtag it with #ParbloDrawlloween
Even if you can't complete one drawing one day, you can start drawing a part of it everyday. Just keep a good habit of drawing every day.
Number of entries ( 20 points )

Judges: Artistic expression ( 60 points )

Popularity ( 20 points )  
Competition time:October 1st – October 31st
The deadline for entries: November 3rd
Winner announcement: November 15th  
Artwork should be original, conceived and created by the entrant.
Parblo will feature the best entries weekly on our social media. Follow us to see the the creative artworks and results.
This contest is running worldwide. International winners will be responsible for any customs fees incurred during shipping.  
Under no circumstance, the prize will be exchanged for cash.
com reserves the right to disqualify any participant or entry under the contest if any fraudulent activity is identified as being carried out for the purpose of availing the offer.
com reserves the right, at any time, without prior notice and without assigning any reason whatsoever, to add/alter/modify/change or vary these terms and conditions.